Our company focuses on developing new innovative horn systems for motorcycles, cars, pickup trucks and other 12V systems. We aim to change the horn standard by offering loud horns that outperform the old designs. MotoHorn™ is a registered trademark in the United States.
The trumpet MotoHorn™ (now version 2.0) is our most up-to-date horn system that is constantly being updated and developed further. As of right now, MotoHorn™ is the world's loudest motorcycle horn, and is the only trumpet air compressor horn system that can be installed on motorcycles. Our design is suitable for most average sized rides, and is adaptable to pickup trucks and cars. You can add extra horn sets to increase the trumpet count and loudness when desired, making it the only horn system that can be customized. This wide range of use makes the MotoHorn™ perfect horn upgrade for anyone on the road.

Each MotoHorn™ kit comes with its own compressor and can be activated simultaneously with the stock horn. This design feature allows riders to achieve a train-like tone on their motorcycles. And if the loudness or tone is still not enough, our Dual Track MotoHorn™ can be added to improve this setup even further — by adding additional 400 and 500 Hz tones.
Multiple MotoHorn™ kits can also be installed under the same horn button. For example 5 MotoHorn™ kits on a pickup truck would be cheaper and more energy efficient than any air tank horn setup. It would also take less space while offering remarkable improvements in loudness and tone.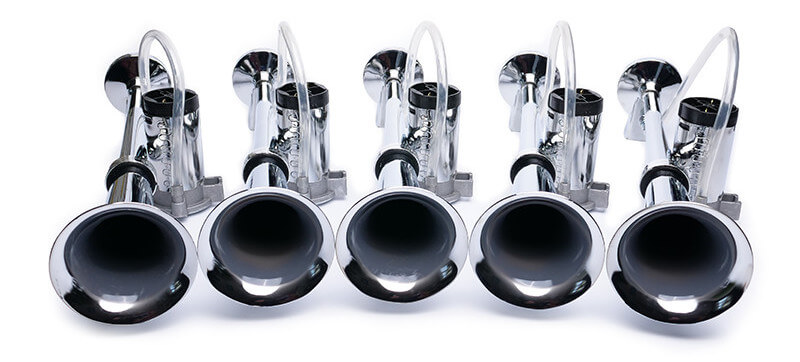 Besides the awesome horns, we understand the importance of positive customer relations. You can count on us for our expertise and responsiveness, with MotoHorn™ you get:
Customer support that answers to all emails within 24 hours → Link
Tracking page and tracking numbers on all orders → Link
Email updates with shipping and delivery status
Delivery and loudness guarantee on all orders
Our goal is to offer riders the best horn equipment they can have. By choosing MotoHorn™ and shopping on Motohorn.com, you contribute to the safety of the motorcycle community — your support allows us to continue making better horns.
Motohorn.com
United States Patent and Trademark office, US Registration Number: 6452808.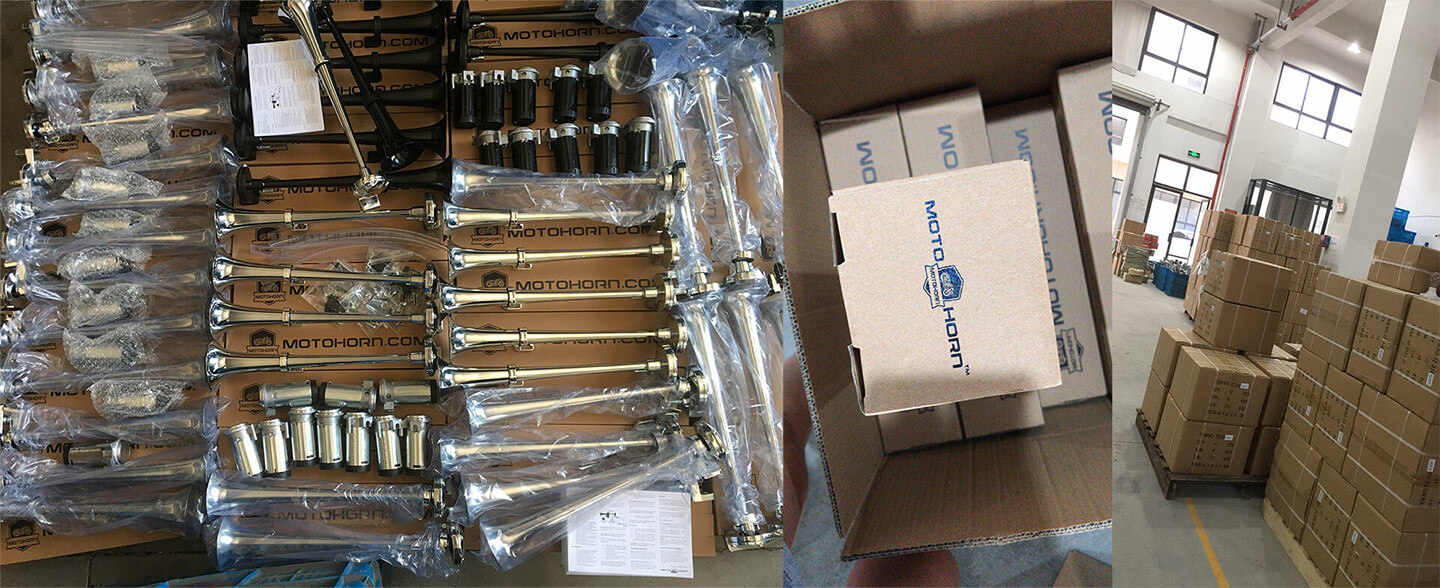 © MotoHorn